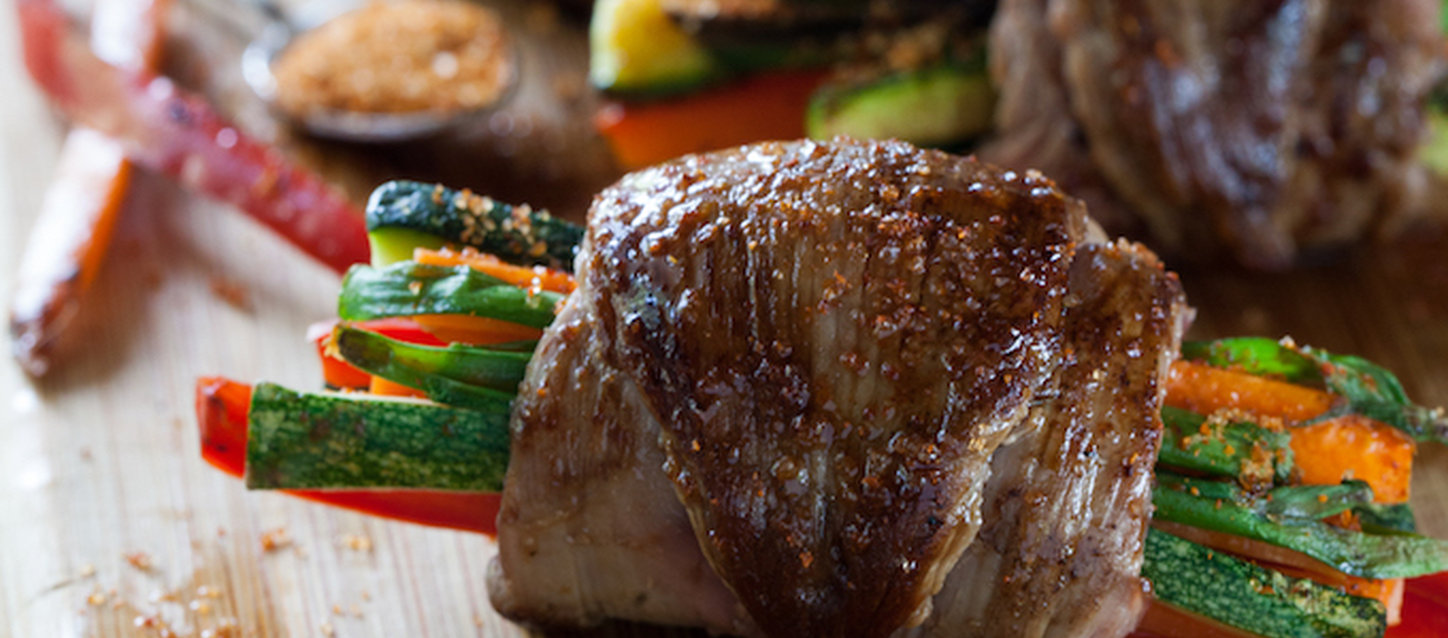 Asian Tamarind Steak Rolls
Prep Time: 10 min

Cook Time: 10 min

Serves: 4-6
Ingredients
1 1/2 - 2 lb flank steak
3 tbsp Worcestershire sauce
1 tbsp olive oil
1 tbsp butter
2 tbsp honey
1 tbsp soy sauce
1 shallot
Salt & Pepper
Filling
1 carrot
1 bell pepper
1/2 zucchini
5-6 green onions
2 cloves of garlic
ZAS! Tamarind Super-Seasoning
Directions
1. Prep the steak by trimming fat and cutting into 3 inch wide strips. Tenderize and season steak with salt, pepper and worchestire sauce. Let sit in marinade for 30 mins.
3. Prep the filling by chopping up the carrot, bell pepper, green onion and zucchini into matchstick size strips. Peel and crush the garlic cloves.
4. Melt butter, then add the honey, olive oil and soy sauce and 4 dashes of ZAS! Tamarind Super-Seasoning until it comes to a slow simmer. Add finely chopped shallot and sautee for a minute until onions are translucent. Remove sauce and let sit.
5. In the same pan, add a touch of olive oil and toss garlic cloves until slightly brown.
6. Increase the heat and add cut veggies (except green onion) until slightly tender (2-3 minutes).
7. Remove veggies and season with ZAS! Tamarind Super-Seasoning.
8. Assemble the steak rolls by filling marinated steak strips with seasoned veggies and green onion in the middle of the strip. Roll the steak and secure with toothpick.
9. Heat a large skillet over medium-high heat and add olive oil to coat the bottom of the pan. Add steak rolls, seam side down, and pan fry for a couple of minutes. Turn and cook on all sides the same way.
10. Remove toothpicks and pour sauce over the steak rolls. Enjoy!