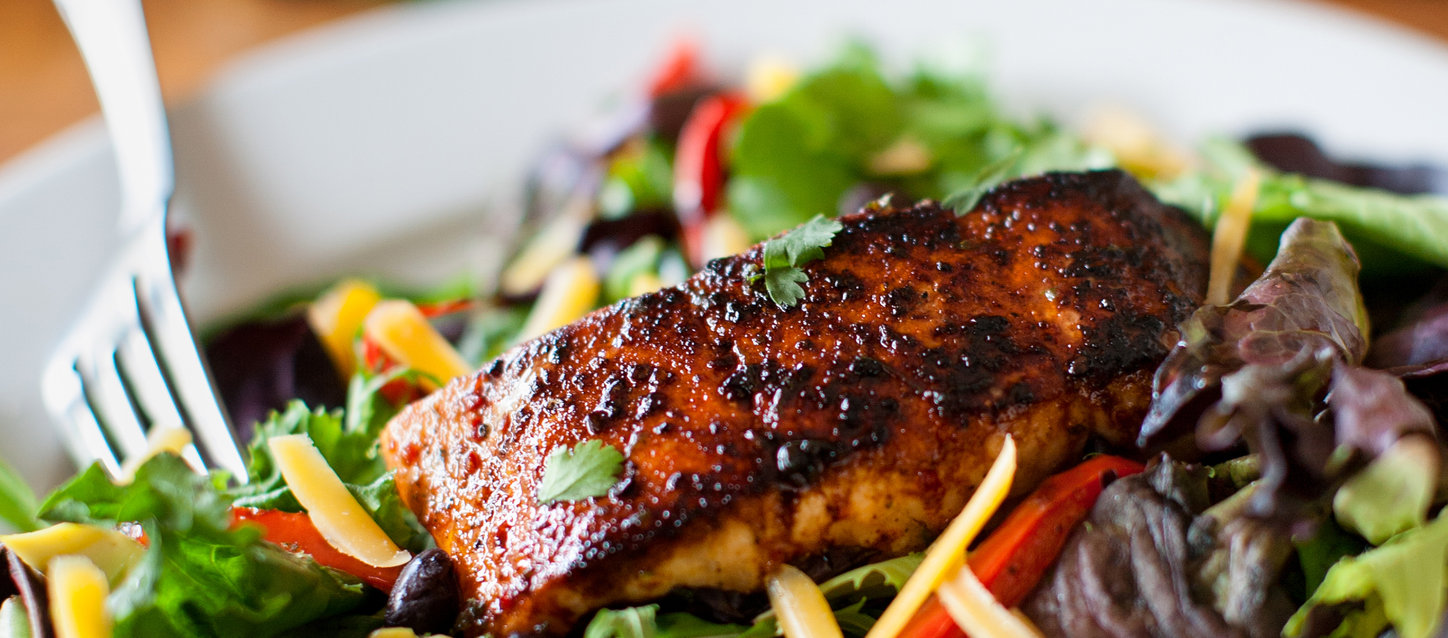 Chili Lime Salmon Fajita Salad
Ingredients
Salmon
1 pound skin on salmon
3 Tbsp olive oil, divided
1 tsp ZAS Chili Lime Super Seasoning
Zest of 2 limes
1 red pepper, sliced
Salad
8 cups butter lettuce or spring greens mix, chopped
1 smallish mango, peeled + chopped
1 small jalapeno, seeded + chopped
1/3 cup cooked black beans, rinsed + drained if using canned
1-2 avocados, sliced
3/4 cup sharp cheddar cheese, shredded
Fresh cilantro, for topping
Crushed tortilla chips
Dressing
1/4 cup olive oil
1/4 cup fresh lime juice (about 2 limes)
2 Tbsp cilantro, chopped (or more to your liking)
1/2 tsp ZAS! Chili Lime Super Seasoning
1-2 Tbsp honey, depending on your taste (I used 2)
Directions
Dressing
Combine the olive oil, lime juice, cilantro and ZAS Chili Lime Super Seasoning. Whisk to combine, taste and adjust seasonings to your liking. Set aside.
In a large salad bowl add the lettuce, mango, jalapeno and black beans. Drizzle with the juice of half a lime (only do this if eating right away). Toss well and set aside.
Salmon
In a small bowl combine the chili powder, smoked paprika, cumin, brown sugar, lime zest and a good pinch of salt and pepper.
Place the salmon on a plate and rub with 1 tablespoon olive oil. Sprinkle the spice mixture over the salmon and gently rub it into the salmon.
Heat a medium size skillet over medium-high heat. Add a tablespoon of olive oil and once hot, add the red pepper slices and a pinch of salt and pepper.
Stir fry the peppers for 4-5 minutes. Remove the peppers from the pan.
Reduce the heat to medium and add another tablespoon of olive oil and add the salmon, skin side facing up.
Sear the salmon for 3-4 minutes and then flip and continue cooking for another 4-5 minutes or until the salmon reaches your desired doneness. Cooking times will vary depending on the size of your salmon. Cut the salmon into 4-6 pieces or chop into bites.
To assemble the salads, add the red peppers to the salad bowl and toss. Divide the salad among plates or bowls. Sprinkle each plate with a little of cheddar. Top each bowl with a piece of salmon. Add a few slice of avocado and drizzle with the dressing. Garnish with crushed tortilla chips and more cilantro.