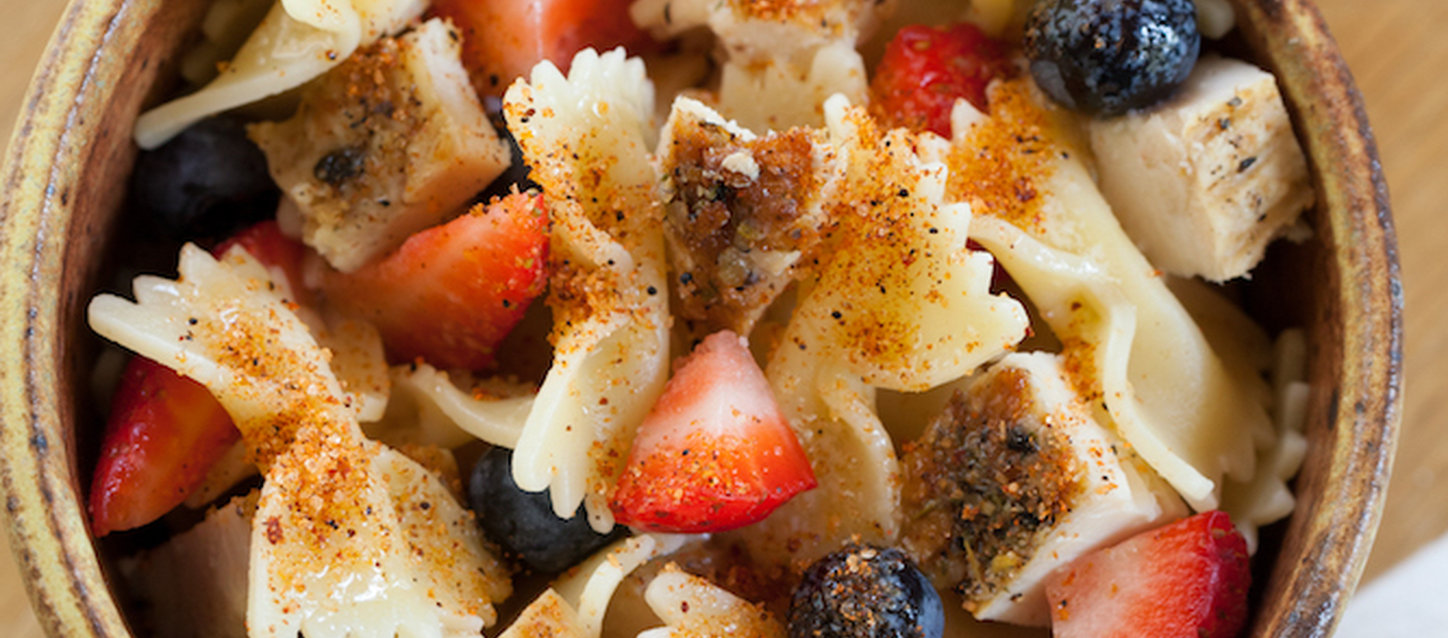 Mango Chili Chicken and Berry Pasta
Prep Time: 4 min

Cook Time: 8 min

Serves: 4-6
Ingredients
8 ounces bowtie pasta
Salt and pepper
2 tbsp butter
2 tbsp olive oil
2 large boneless, skinless chicken breasts
1 cup quartered strawberries
1 cup blueberries
4 ounces crumbled feta cheese
3 tbsp lime vinaigrette
ZAS! Mango Chili Super-Seasoning
Directions
Cook pasta. Drain, rinse, and cool.
Season both sides of the chicken breasts with salt and pepper. Set a large saucepan over medium-high heat. Add olive oil and swirl pan to coat. Cook chicken breasts until deep golden brown, about 5 to 8 minutes. Set aside on a cutting board to cool.
Transfer the cooled pasta to a large bowl. Cube the chicken breasts and layer on top. Scatter the quartered strawberries, blueberries, and feta cheese on top. Drizzle with about 2/3 of the vinaigrette dressing and toss until evenly coated (reserve the remaining 1/3 of the vinaigrette to add just before serving).
Cover salad and refrigerate for at least 4 hours. Remove from the refrigerator and stir in remaining vinaigrette (to taste). Sprinkle a generous amount of ZAS! Mango Chili Super-Seasoning and enjoy!